Any of us can say we need to drink more beer. That's easy, and easily executed too. Every corner gas station or grocery store in my neck of the woods has the usual big brand suds by the 6 pack or by the case. Drinking more plain Jane mass market slop isn't really an accomplishment. And let's face it, it might be beer, but it isn't exactly exciting. I'm looking for something deeper than that, something with a little more meaning. No more casual beer for me. I want to find the kind of beer I can really commit too. And a commitment is an adult responsibility, so I'm taking this seriously. I'm getting expert advice, I'm going to plan carefully, and I'm going to take the steps I need to find true beer excellence.
That's where Patrick Huff comes in. He is a Craft Beer enthusiast and author of the blog Crafty and the Beast. Do you remember the movie City Slickers, where the 2 ice cream guys challenged everyone to name any meal and they would pair it with the perfect ice cream? Patrick Huff is a craft beer whisperer, and he is offering to take this kind of challenge for himself on the BACKGRINDER blog today. I've found 5 perfect beer drinking events in the second half of November, and it's up to Patrick to find me the perfect craft beer for each one.


@backgrinder The first event is a great way to start: the Leonid Meteor Shower. The shower is best viewed from a dark outdoor spot away from light. It will be available for several nights starting late in the evening, but the peak night is Saturday November 17 at 3 AM Eastern time. Meteor Showers are always cool, this one will require a beer with staying power (it lasts several hours) suitable for a cold, crisp outdoor fall night.
@patrick In the fall, when I walk outside my door, I often smell wood burning. It is so inviting, it makes want to pick up some craft beer and crash an autumn campfire. There was a time when most beers had a Smokey taste. This was due to the way the malts were kilned over fire. Now craft brewers are bringing back this style from smoked porters to Rauch Bier (smoked lagers). While enjoying the meteor showers, try the smoked porter from Stone brewery or Aecht Schlenkerla Rauchbier Märzen, a traditional German smoked lager.
@backgrinder OK, you think a night spent watching for meteors in the cold calls for a special beer? How about this: Black Friday. Friday Novemeber 23, day after Thanksgiving. Women celebrate it, men dread it. Waking up early, trudging through stores of overly aggressive shoppers, looking for special items, waiting in lines that go on forever to check out, you know the drill. At the end of the day you are worn out, nerves are shot, back is aching. But get this: Black Friday falls on National Cashew Day this year. Go figure! I freaking love cashews. So I need a craft beer that I can nurse through tired, sore back, and goes great with Cashews. Think Patrick can navigate this part of the challenge?


@patrick One of my favorite Indian dishes is Chicken Korma, a creamy, nutty, spicy curry. You can go a couple of ways with this. One is to bring out the spice and prepare you for your next bite with an IPA. How about 60 minute IPA from Dogfish Head? However, it will increase the heat a bit. Another option is to tame the flame while complementing the chicken with fruity notes, such as Golden Monkey, a Belgium style golden ale from Victory Brewery.
@backgrinder My next event is in the realm of the sporting life. Long the domain of mainstream stadium beer sponsors, we're looking to invade a college football Saturday with something a little less, well, collegiate. College rivalry Saturday on November 24th features three of the most classic grudge matches in sports: Michigan-Ohio St. at noon, the Alabama-Auburn Iron Bowl game at 3, and USC-Notre Dame at 8. Heated rivalries, classic tradition, and high stakes including 2 possible seats at the national championship table and multiple bowl games on the line. This is a big one, and will need a beer with some real staying power to get me through the day.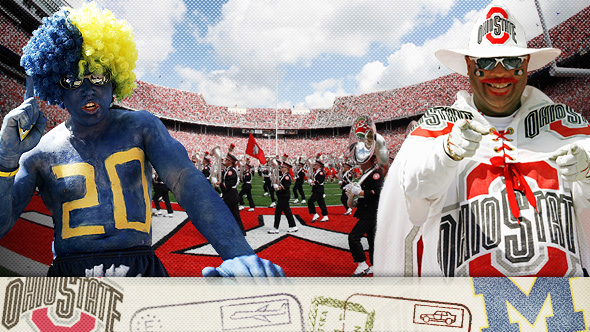 @patrick Ok boys, time for some football. I picked a few lighter balanced beers with lower alcohol content. You want to hang out and toss a few. The beers I picked coincide with each college state.
First are Notre Dame and USC. Notre Dame gets an Amber Lager from Karl Strauss Brewery, a perfect session beer at 4.5 %. This is a Vienna style lager with a deep amber color and toasted malt flavors. For USC I chose Light Rock Ale from RJ Rockers. This spritzy kolsch ale is anything but aggressive and will go down smooth.

Next up is Michigan vs. Ohio State. For Michigan I traveled to Bells Brewery and picked their pale ale, a well-balanced ale between hops and malt. For Ohio State we have Great Lakes Dortmunder Gold, an award winning crisp lager with balanced malt and hop bitterness.

Last of the college games is Alabama vs. Auburn. For this I chose one beer, Back Forty Truck Stop Honey Brown Ale. This is an English Brown Ale with caramel sweetness, bready and nut flavors. This will also pair well with your hot wings.
Thursday November 29 Saints Falcons Grudge Match


@backgrinder: I actually threw in two football events here. Repetitive? Not really, because this one is a pro game. Besides, I like football, I like beer, it's my blog, get over it. Besides, this one is can't miss TV: the Saints-Falcons rematch on Thursday November 29. In their first game this season the trash talk started before the game. It continued on the field as Falcons players taunted former Falcon (and current Saint) Curtis Lofton for leaving their team for the Saints because the Falcons were undefeated and the Saints had a losing record. The Saints proceeded to wipe the Falcons out, wrecking their undefeated season in the process. Falcon Roddy White claimed they gave the game away afterward, and in return Saints players (who have won 11 of their last 13 against Atlanta) said the Falcons were their little brothers and they owned them. This could get ugly, so we need a beer that can handle a beast of a game, and on a school night to boot. A tough challenge for beer whisperer Patrick for sure:
@patrick For the Saints, a Pecan Harvest Ale from Abita Brewery will please all nut lovers. Using real Louisiana roasted pecans; this harvest ale will provide flavors of biscuit and nuttiness. With all the trash talk, the Falcons deserve a spicy, aggressive and well balanced ale so I chose Rye Pale Ale from Terrapin Brewery.

@backgrinder We're almost at the end of our top 5, which is good because we are almost at the end of November too. November 30 is St. Andrews day. The patron Saint of Scotland, his cross is the Scottish national flag, and we need a beer to celebrate the bonny auld country in style:

@Patrick Oh the Scottish. They do things their way. Hops? England can keep their bloody hops. "We will brew malty stronger beers." Don't deny it. I know you have a traditional kilt hidden away in the closet. Put it on and play a Primal Scream cd and rock out with a Wee Heavy Ale from Alesmith Brewery. This is a 10% ABV Scotch Ale. This Scotch Ale is subtly smokey with notes of chocolate and molasses. "Slainte!"
Well, I gotta admit, I never thought he'd be able to pull it off. Perfect Craft Beers for 5 perfect November Events. Patrick Huff is truly a master of his craft (Pun intended). He writes about craft beer over at Crafty and the Beast and you have to check him out over there, you might learn a thing or two. Beer knowledge is guy knowledge, so save this man's info, he has all the right kind of craft beer wisdom you need.
Get a "normal" sized 16oz beer mug here:

Get a "righteous" sized 34 oz beer mug here:


Get a Killer skull stein for your beer here:


Get the City Slickers Collectors Edition Here: